About Us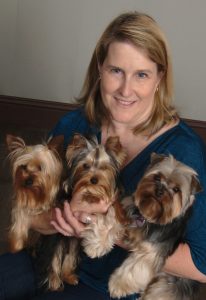 Our goal is to raise healthy, well-adjusted, attractive LITTLE dogs with PERSONALITY PLUS. They are family raised in our home with lots of love and socialization. I strive to breed healthy, happy individuals that make a wonderful family addition. While my dogs are not all "show" quality--I breed to conform to breed standard for the whole package. What fun is a dog that is physically perfect, but has a bad temperament?
In addition-I find the rare, dis-allowed colors to be attractive, such as the Partis and the Goldens. If the dog is otherwise correct-why not have a variety of color? Since personality is the most important thing--I ONLY breed dogs with good temperaments. No spazzed out , high strung, snippy dogs here. Only affectionate, fun-loving little darlings. Our dams are under 6 pounds, our studs are 3.5 and 4 pounds. All are available for stud service to registered, approved females.
******************* I have a pro veterinary scale that measures to the 1/4 ounce and track the weight of the pups from birth. Using the Yorkie growth chart, adult size can be pretty accurately determined and I stand by my pups. I don't "guesstimate" the size of my pups--I verify it. Don't be fooled by the promise of "teacup" if the size of the pup is not verified. It is hard to guess the weight of an animal under 5 pounds. I have a 4 pound Chi that people always guess to weigh 1 pound. 3 pounds sure will make a difference in the adult size of a Yorkie pup! A true "teacup" is very rare and is actually a dwarf dog that weighs under 3 pounds at ADULTHOOD--not as a pup. A pup weighing 3 pounds at 6-8 weeks is going to weigh over 7 pounds as an adult.
Do your research on breed standard and personality before buying. There is no such thing as a "standard" size Yorkie--the breed standard states that they are to be under 7 pounds. Anything larger is simply OVERSIZED. My dogs are on the premises--what you see is what you get. Pups usually resemble their parents greatly. I have carefully chosen my dogs for quality, correctness, and health. All pups are vaccinated and dewormed, have tails docked and dewclaws removed. AKC registered with papers given at purchase. All puppies are sold with limited registration unless otherwise arranged.